Maybe you won't believe me, but, let me explain a couple of things.
Most of you knows what Samsung Gear is. If not, stop hesitating and take a look here LINK!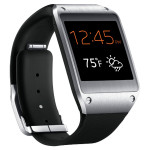 Quite far from the very first version, Samsung Gear won the race for the very first smart watch.
Actually the prize has been quite poor. Never seen one of these watch to a wrist (friends or not).
The new Apple Watch is and always will be the second smart watch in the eternal fight between Apple and Samsung.
Please, take a look to it, as well.

continue reading "Apple is the biggest Samsung fanboy ever"